Exceptional Camera with 108 MP
Enhance your photography skills with this C53 smartphone having 108 MP ultra clear camera. Capture stunning pictures and detailed moments on this large sensor size camera that can increase light sensing area by 79.37%. You will get an awesome 118.2% resolution boost when you take photos in high pixel mode. You can also observe a 100% improvement in resolution when you click pictures with the 3X zoom mode. With this smartphone, you can take exceptional pictures and cherish your memories.
Slim Design Phone with 7.99 mm Size
This phone is slim and easy to hold as it is only 7.99 mm in size and boasts a slim champion design. You can see a C-angle design that is comfortable to carry and the golden glow of this phone gives a rich and classy look.
Dynamic RAM and Massive Storage
With up to 6 GB of RAM on this phone, you can enjoy superfast application launch speeds. With a huge memory capacity of 128 GB ROM, you have plenty of storage space to save everything you want.
5000 mAh Large Battery With 18 W Fast Charger
Powered with a large battery of 5000 mAh, this phone has the capability to run for hours so you can stream music, play games, watch movies and browse all day without worrying to charge your phone in between. Additionally, you also get a 18 W quick charger, so you can quickly boost your phone and get back to work swiftly.
17.13 cm Screen SIze with 90 Hz Display
The large screen size of 17.13 cm with 90 Hz display totally enhances your visual experience. Navigating through various screens, social media pages and playing games is so quick and lag free. Fluid scrolling and quick interactions further lifts up your spirit to use this phone all day.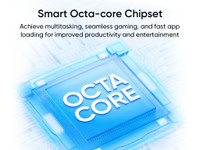 Smart Octa-core Chipset
The processing speed of your phone is improved with the strong and powerful octa-core chipset. You can effortlessly multitask on this phone, watch uninterrupted entertainment, and play games without any disruption. Your app loading time becomes quick, so your day is made productive and hassle-free.